The Ultimate CRM Solution for Real Estate
‍ Transform Your Real Estate Business with Our Cutting-Edge CRM System
Get Leads Full View
Unlock the Full Potential of Your Leads With Our Powerful Software
Never Miss a Lead and Close More Deals with Our Convenient Lead Management System!

Easily Filter, Act Upon, and Save Leads All in One Place for Hassle-Free Follow-Up and Seamless Sales Process.

Save Your Custom Filters for Later and Import Leads from Multiple Sources with Ease.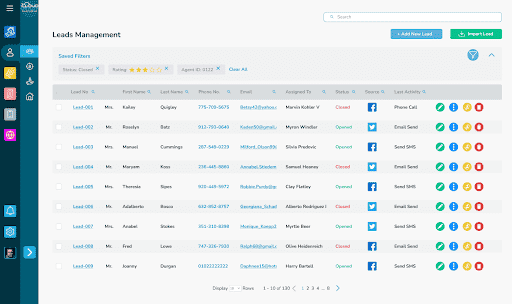 Leads Bulk Actions
Get Organized: Manage All Sales Leads From One Place
Effortlessly manage your real estate leads with our innovative software.

Log activities and perform bulk actions with ease, saving you time and effort.

find and convert leads that meet your specific search criteria, so you can close deals faster.
Single Lead control
Effortlessly Manage Your Tasks with All Controls in One Convenient Location
Keep Track of All Lead Activities with Ease and Precision

Add Custom Notes and Monitor Progress through Every Stage of the Customer Journey.

Comfortably Control and Convert Your Leads into Loyal Customers.
Leads Preview
View More Leads and Take Action!
Leads at a Glance: All the essential need-to-know details for powerful lead decisions, accessible within seconds.
Convert Leads to Opportunities in one step
Transform potential leads into opportunities and generate contacts simultaneously.
Opportunities control, Ready for your real-estate
Managing your real estate opportunities has never been easier! Efficiently add units and log activities with just a few clicks. Stay on top of your real estate game effortlessly.
Adding files and attachments to your opportunities
Streamline Your Property Management with Hassle-Free File Attachment
View the linked and Historical campaign running to each opportunity
Prioritize Prospects for Peak Performance
Ability to receive units in order to complete the sales cycle
Lock in Leads, Leave the Rest to Us
Lead route

Ensure the right agent connects with each prospect through intelligent lead distribution.

Lead center

Pull potential clients in from over 200 sources to maximize new business opportunities.

Smart list

Eliminate time wasted guessing whom to contact next with prioritized prospect lists.

Calls

Replace your business phone system with one that routes all calls through your CRM for a unified view of prospect conversations.

Mobile apps

Stay connected to leads and clients wherever you are with Android and iOS apps that sync with your CRM.
Ready To Transform Your Business with iCloudReady's CRM?
Try iCloudReady for Free with Our 14-Day Demo